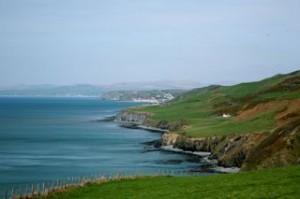 Saturday was an amazing hot sunny day, it felt like July not April.
I've often walked the coast path as far a Morfa Buchan and then circled back to Abersytwyth from there. But today we decided we were going to explore South down as far as Llanrhystud. It was so good to be amongst the fresh green of spring, highlighted with the pure white of the black thorn and damson, together with flashes of yellow gorse, primroses and celandines.
The path South of Morfa Buchan undulates its way along the coast, a little way back from the cliff edge which gives the walk much more of a pastoral feel, without being too far away from the intense shimmering blue of the sea.  There was a big buzzard hovering overhead while we stopped for lunch and skylarks were singing, soaring high above us as we walked. Everything so full of life.
With a couple of stops and lunch the walk took us 3 1/2 hours and was about nine miles. We then caught the bus back from Llanrhystud, there are normally busses about every half hour.